Take a look at our fantastic 360 degree experience and explore our wonderful school for yourself.
Welcome to Margaret Roper School, we'd love to meet you and show you around our wonderful school !  We are so proud of what we achieve!
Margaret Roper is a Catholic Primary School which serves the community.   Parents & Carers who are interested in an excellent, value-based education are welcome to apply, including families from other faiths and denominations.
We currently have some vacancies in the school.  If you are interested in a place for your child(ren) at Margaret Roper, please contact the school office at office@margaretroper.croydon.sch.uk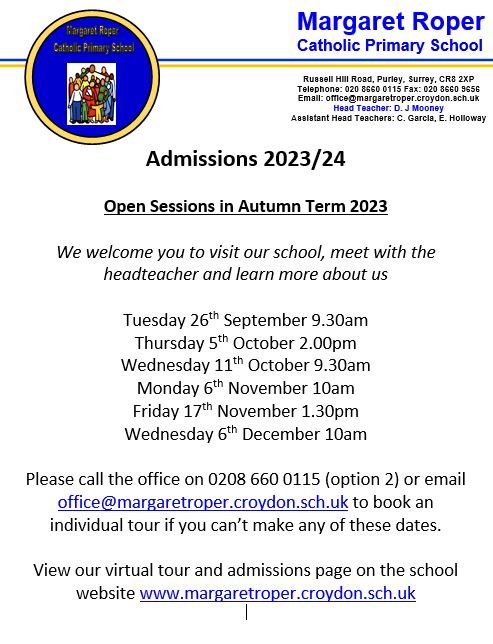 Reception Class September 2024 & In-year entry
For applicants applying for Reception places in September 2024, the Admissions Policy and Supplementary Information Form is shown below:
Supplementary Information Form 2023-4 06092023
MR Statement of Behaviour Principles 2021-22
Margaret Roper is a Catholic School, but you don't have to be a Catholic to join us - we are open to application from families from other faiths or no faith. 
By 15th January you should :
Go to School admissions - London Borough of Croydon and submit your Croydon Common Application Form.  Include Margaret Roper in your list of preferred schools.  (If you live in a borough outside Croydon, you must do this through your own council website).
Complete the Supplementary Information Form (link above) for Margaret Roper School and return it to the school.
Arrange for completion of the Priest Reference Form (link above).  You will need to complete your own details and then pass on to your Priest.  For further information please contact your own parish.
Should you require further assistance, please use the contact details below.
Please e-mail: office@margaretroper.croydon.sch.uk or telephone 020 8660 0115 and leave a message (option 2)
Please see link below for Admission Appeals Information / Timetable
Admissions Policy 2023/24
Please see the Admissions Policy below for September 2023:
Prior year Admissions Policy
Admissions-Policy-2022-23-updated-150921
Margaret Roper Admissions Policy 2021-22 updated 21.7.21
Please note we have Full Wrap Around Care Provision in place.
Breakfast Club runs from 7.30am every day
After School Club runs until 5.55pm every day
See the Breakfast and After School Club tab under Parent Info for more information.